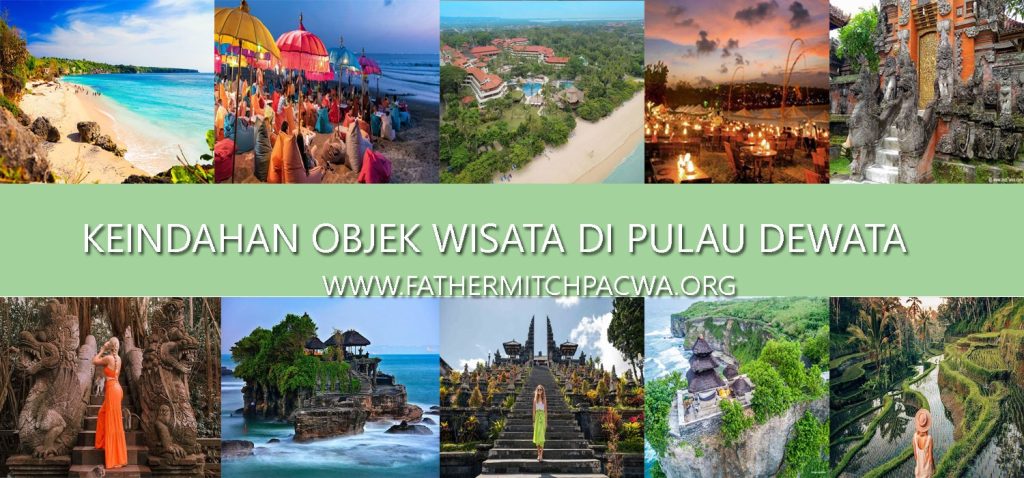 Perkenalan
Bali, often referred to as "The Island of the Gods," is a tropical paradise that beckons travelers from around the world with its stunning natural beauty, rich cultural heritage, and warm hospitality. This Indonesian island is renowned for its lush landscapes, pristine beaches, vibrant arts scene, and spiritual temples. In this article, we will embark on a virtual journey to explore the enchanting beauty of Bali, uncovering its unique attractions, cultural treasures, and natural wonders.
The Allure of Bali's Beaches (The Island of the Gods)
Whether you're seeking a vibrant beach party atmosphere or a secluded spot for relaxation, Bali has it all. Here are a few beaches that capture the essence of Bali:
Kuta Beach:
Known for its energetic nightlife and excellent surfing conditions, Kuta Beach is a popular destination in indonesia for travelers seeking both excitement and relaxation.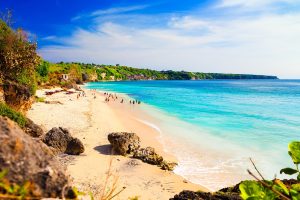 Seminyak Beach:
Located just north of Kuta, Seminyak Beach offers a more upscale and laid-back atmosphere. It's perfect for those who enjoy boutique shopping, upscale dining, and luxurious beachfront resorts.

Nusa Dua Beach:
This area is home to some of Bali's most luxurious resorts and pristine beaches. It's an ideal destination for travelers seeking tranquility and water sports.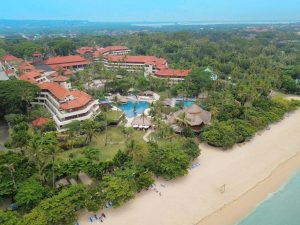 Jimbaran Bay:
Famous for its seafood restaurants on the beach, Jimbaran Bay is an excellent place to enjoy a romantic dinner with a view of the sunset.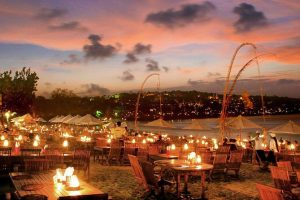 Padang Padang Beach:
Made famous by the movie "Eat, Pray, Love," this beach is a hidden gem known for its unique cave entrance and impressive waves, making it a favorite spot for surfers.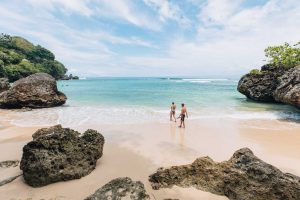 Bali's Cultural Heart: Ubud
Ubud, located in the central part of Bali, is often considered the cultural heart of the island. It's a place where art, spirituality, and nature converge to create a unique and inspiring atmosphere.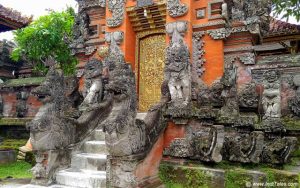 Ubud Monkey Forest:
A lush jungle sanctuary home to hundreds of playful long-tailed macaques. Visitors can explore ancient temples nestled among the trees.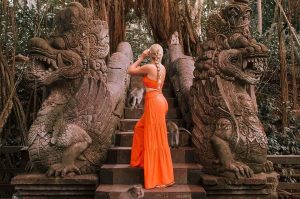 Ubud Art Market:
A vibrant market where you can shop for local art, handicrafts, clothing, and souvenirs.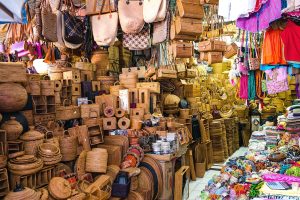 Tegallalang Rice Terraces:
Bali's famous rice terraces are a sight to behold, and the ones in Tegallalang are among the most iconic. Take a walk among the emerald-green rice paddies and marvel at the intricate irrigation system.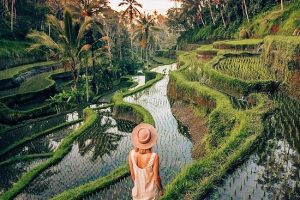 Sacred Monkey Forest Sanctuary:
A place of spiritual and cultural significance, this forest is home to three temples dating back to the 14th century. It's a serene spot to connect with Bali's spiritual heritage.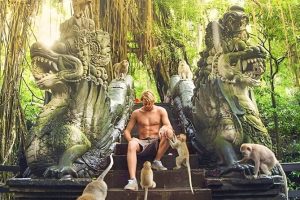 Ubud Royal Palace:
Also known as Puri Saren Agung, this palace showcases traditional Balinese architecture and hosts regular dance performances in its courtyard.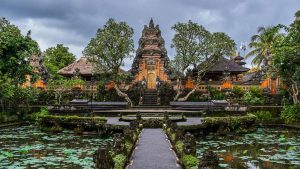 Bali's Spiritual Temples and Rituals (The Island of the Gods)
Bali is renowned for its intricate temples, and it's often referred to as the "Island of a Thousand Temples." These sacred sites are not only places of worship but also architectural marvels.
Uluwatu Temple:
Perched on a cliff overlooking the Indian Ocean, Uluwatu Temple is famous for its stunning sunset Kecak dance performances and breathtaking ocean views.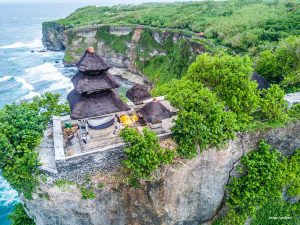 Tanah Lot Temple:
Located on a rock formation in the sea, Tanah Lot is one of Bali's frequently visited by tourists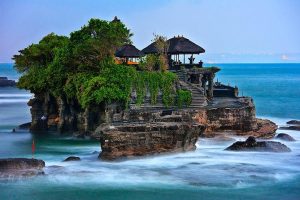 Besakih Temple:
It's situated on the slopes of Mount Agung and comprises multiple temples.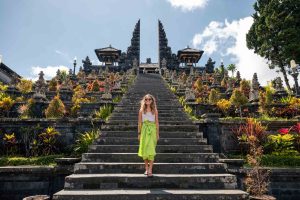 Pura Tirta Empul:
This temple is famous for its sacred spring, where Balinese Hindus go to bathe for purification during religious ceremonies.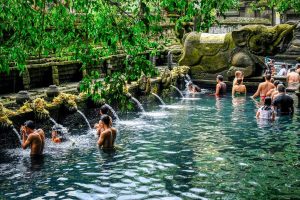 Goa Gajah:
Also known as the Elephant Cave Temple, Goa Gajah features intricate rock carvings and is believed to date back to the 11th century.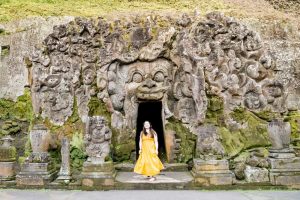 Bali's Natural Wonders (The Island of the Gods)
Beyond its beautiful beaches and cultural attractions, Bali offers a diverse range of natural wonders that will leave you in awe:
Mount Agung:
Bali's highest peak and an active volcano, Mount Agung offers adventurous treks to its summit for breathtaking sunrise views.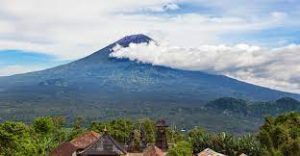 Tegenungan Waterfall: (The Island of the Gods)
Located near Ubud, this waterfall is easily accessible and surrounded by lush greenery, making it a popular spot for swimming and photography.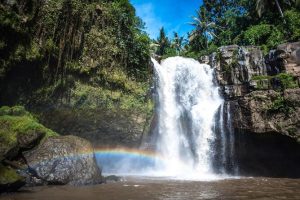 Gitgit Waterfall: (The Island of the Gods)
Situated in North Bali, Gitgit is a series of picturesque waterfalls surrounded by a dense tropical forest.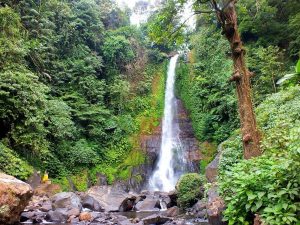 Bali Safari and Marine Park:
A conservation center and zoo where you can see a wide variety of animals up close.
Jatiluwih Rice Terraces:
These terraces are a UNESCO World Heritage Site and offer some of the most stunning rice field views in Bali.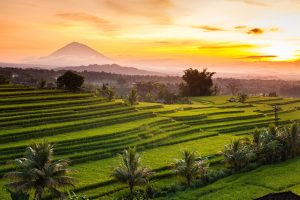 Bali's Cuisine and Culinary Delights (The Island of the Gods)
Bali's culinary scene is as diverse as its culture, offering a wide range of flavors and dishes to satisfy all palates.
Nasi Goreng:
Indonesia's version of fried rice, often served with a fried egg on top.
Nasi Campur:
A Balinese mixed rice dish with small portions of various side dishes, including vegetables, peanuts, eggs, and sate lilit (minced fish satay).
Mie Goreng: (The Island of the Gods)
Stir-fried noodles seasoned with Indonesian spices, typically accompanied by vegetables and your choice of meat or seafood.
Bebek Betutu:
A traditional Balinese dish consisting of duck stuffed with traditional spices, wrapped in banana leaves, and slowly roasted.
Balinese Coffee: (The Island of the Gods)
Savor a cup of rich Balinese coffee, often served with palm sugar and a piece of Bali's famous Jajan Pasar (traditional cakes).
Bali's Eco-Friendly Initiatives (The Island of the Gods)
Bali has been increasingly focusing on sustainable tourism and eco-friendly practices to preserve its natural beauty. Many eco-conscious resorts and businesses have emerged, offering travelers a responsible and eco-friendly way to enjoy the island. These initiatives include plastic-free campaigns, beach cleanups, and sustainable farming practices.
Experiencing Balinese Traditions and Festivals (The Island of the Gods)
One of the most captivating aspects of Bali is its vibrant traditions and colorful festivals. Visitors have the opportunity to witness and even participate in traditional ceremonies, dances, and rituals. Some of the most significant Balinese festivals include Galungan, Nyepi (the Day of Silence), and the Ubud Writers & Readers Festival.
Bali's World-Class Resorts (The Island of the Gods)
Bali is home to a wide range of accommodations, from budget-friendly hostels to luxurious resorts and villas. Some of the island's renowned resorts offer stunning views, private pool villas, spa facilities, and exceptional dining experiences. Whether you seek relaxation or adventure, you'll find a place to suit your needs.
In Conclusion
Bali's timeless allure continues to captivate travelers from all walks of life. Its rich tapestry of natural beauty, cultural treasures, and culinary delights make it a destination like no other. As you explore this island paradise, you'll discover that Bali is not just a place; it's an experience that will leave an indelible mark on your heart and soul.